My brother's fiancee introduced us to Air Fryer Buffalo Cauliflower over the Thanksgiving holiday and I felt compelled to share. This delicious and exceptionally easy recipe is a perfect side dish or appetizer. As I mentioned before, my husband and I have been playing around with the Air Fryer and I'd like to report that we haven't been disappointed! It is now a staple of our kitchen and probably my most used appliance. It's easy to clean, easy to figure out (you choose your temperature, enter the time and press go) and super fast for a last minute cooker such as myself. Christmas is right around the corner, and I can't think of a better gift idea. I have to admit, I'm not the biggest cauliflower fan, but when it's prepared in a tangy buffalo sauce and comes out perfectly crispy I'll snack on it all day.
Ingredients:
3/4 cup baking flour (gluten free, if need be)
1 cup water
1/2 teaspoon garlic powder
1 large head cauliflower cut into 1 1/2 inch florets (approximately 6 cups)
2 tablespoons butter, melted
1/2 cup pepper sauce (I used Franks RedHot)
2 teaspoons honey
Add salt and pepper to taste
Directions:
Mix all the ingredients, except for the cauliflower, together in a bowl. Whisk if necessary. Batter should be smooth and somewhat runny.
Cover the cauliflower in sauce
Coat air fryer with avocado or olive oil
Add cauliflower to air fryer. Set temperature to 370 degrees and cook for 14-16 minutes
Remove and let cool. Cauliflower should be crispy
For reheating – add cauliflower back to air fryer for 1-2 minutes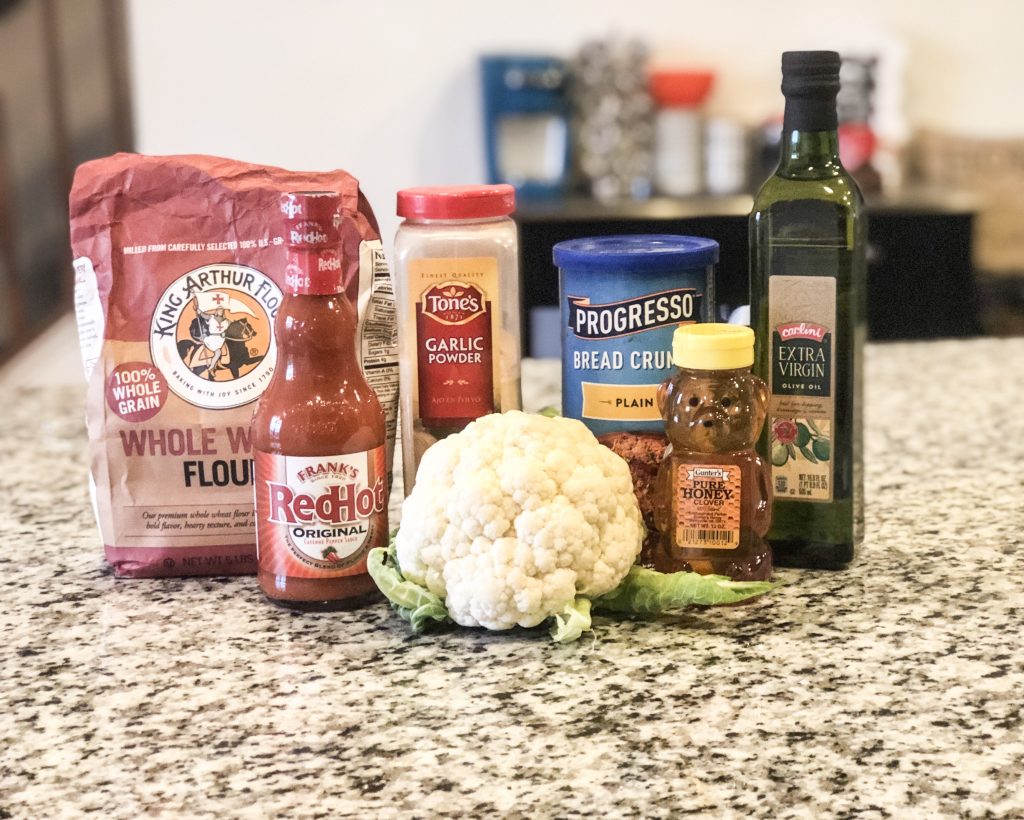 And there you have it! Air Fryer Buffalo Cauliflower is so tasty and healthier than those buffalo wings you've been craving. I paired mine with a blue cheese dip for more flavor.
Enjoy!
If you liked this article and want more fun ideas for the air fryer be sure to check out: Homemade Air Fryer Donuts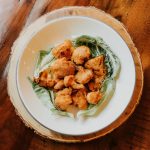 Air Fryer Buffalo Cauliflower
Ingredients
3/4

cup

baking flour (gluten free if need be)

1

cup

water

1/2

teaspoon

garlic powder

1

large head

cauliflower

cut into 1 1/2 inch florets (approximately 6 cups)

2

tablespoons

butter

melted

1/2

cup

pepper sauce

(I used Frank's RedHot)

2

teaspoons

honey

Add salt and pepper

to taste
Instructions
Mix all of the ingredients, except for the cauliflower, together in a bowl. Whisk if necessary. Batter should be smooth and somewhat runny

Cover the cauliflower in sauce

Coat air fryer with avocado or olive oil

Add cauliflower to air fryer. Set temperature to 370 degrees and cook for 14-16 minutes

Remove and let cool. Cauliflower should be crispy

For reheating, add cauliflower back to air fryer for 1-2 minutes