We are officially heading into spring and that means consignment season is upon us!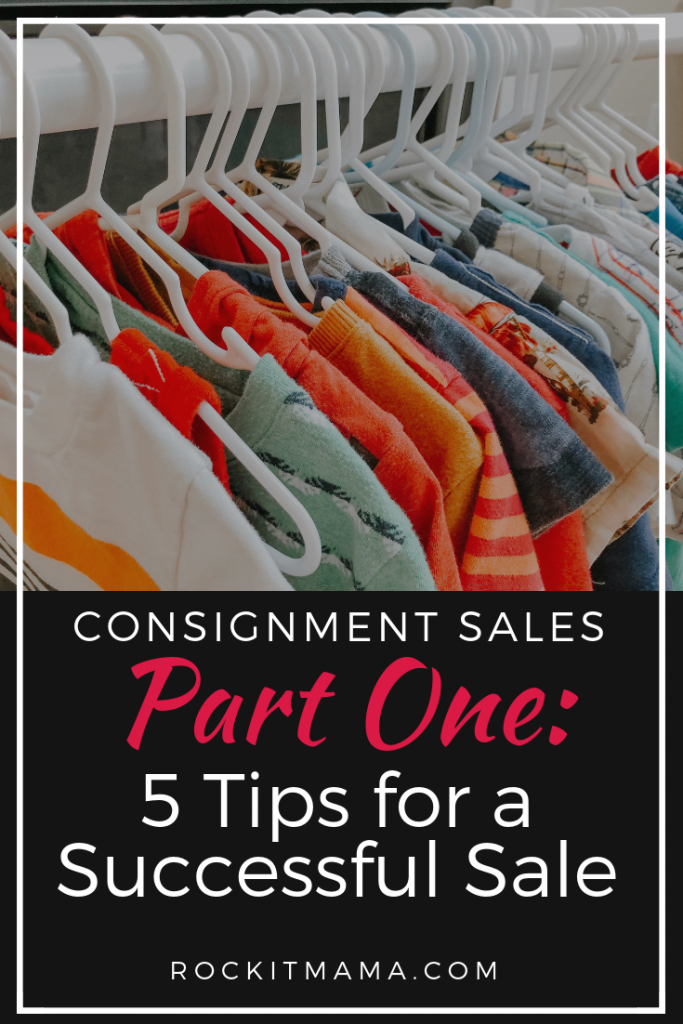 Twice a year, I sift through piles of clothing, unused toys, books and baby gear to prep them for our local spring and winter consignment sales. I have found that participating in these events not only helps to declutter our home (Marie Kondo would be so proud), but its a simple and frugal way to outfit our children throughout the year. As a consignor, I've actually made a decent amount of money selling old items and then turned that money around to purchase seasonal-appropriate clothing and toys.
Now the idea of consigning might seem intimidating for a first-timer, but I promise it can be so beneficial to you and your family. And since I've involved myself in a handful of sales, I want to share my best pieces of advice for those considering taking the leap. Part one of my consignment post series will highlight 5 tips for a first-time consignor and will hopefully be a great resource to set you up for success.
Choose the Right Sale
The first thing to keep in mind when signing up as a consignor, is making sure you choose the right children's consignment show to participate in. There are a handful of factors that help make this decision easier and they are:
Location – Is it convenient to you?
Date – Will you have plenty of time to prepare? Are you available during the show days for drop-off/pick-up?
Size of Sale – Is the show pulling in a lot of buyers and making it worth your time and investment?
Season – Consider the items you want to sell, particularly clothing. Does the season work well for the items you wish to sell? (ie. If you have a lot of winter jackets and shirts, your items will not be accepted at a sale in the spring).
Give Yourself Time to Prep
Preparing your inventory takes A LOT of time; so plan accordingly in order to hit your drop-off deadline. You will need at least a months time in advance to go through the items you wish to sell, wash/clean, bundle items (if you plan to do this), list on the inventory software and tag.
To learn more about the step-by-step preparation process I use, check out this post.
Choose Items to Sell Wisely
Go through all your items and choose the ones that are likely to sell at the show. This is also a good time to see everything you want to get rid of and decide if donating the items to a local thrift-store makes more sense. Here are some helpful tips when it comes to choosing what items to consign:
Make sure you pick in-season clothing (jackets, long-sleeve for winter / short-sleeves, shorts, summer dresses for spring, etc.)
Don't include dingy, worn/torn or stained clothing
Don't include items that are broken or have missing pieces
Older kids clothing, baby gear and outdoor play equipment are the fastest sellers and in high-demand. Additionally, clothing sets or outfits sell better than separates.
Price Items Fairly
Generally, children's consignment events advise to sell at 30%-40% of the retail price, but it is best to refer to the specific consignment sales staff on a recommended pricing guideline. See our pricing guide below!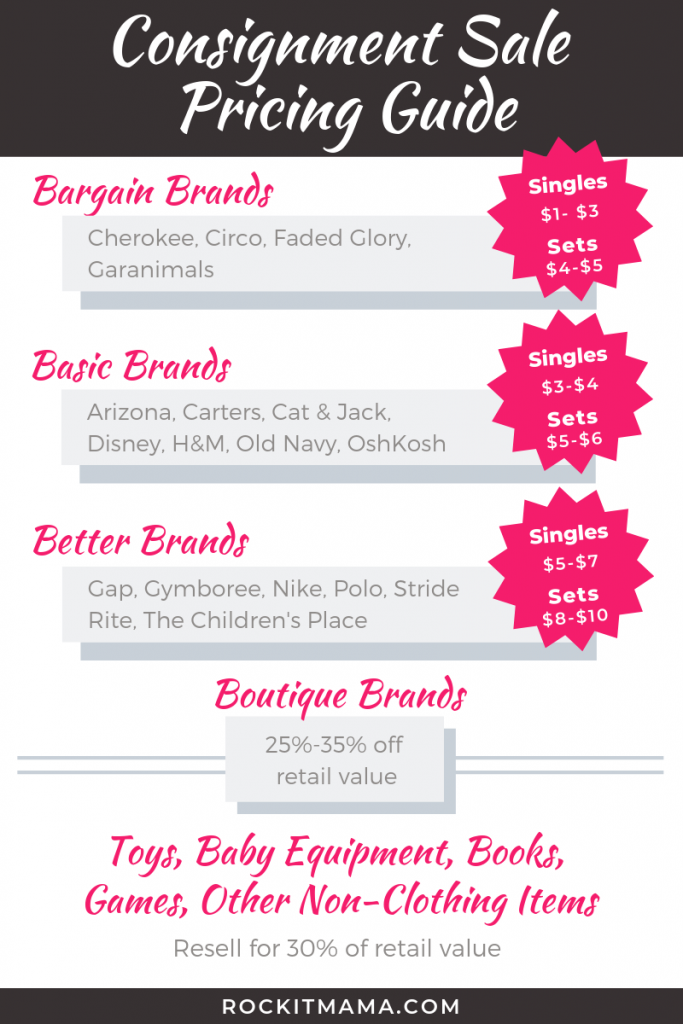 Presentation is Key
Presentation means everything at consignment events. When selling your gently-used items, you want to make sure that from a buyers standpoint, the items still look relatively new. Always wash/iron all clothing, wipe down and sanitize any baby gear or products and make sure all electronics have new, working batteries so buyers are able to test them out.
For a more in-depth look at preparing for children's consignment sales, be sure to check out Part Two – Prepping Your Inventory. And if you plan to consign in any future sales, be sure to bookmark or pin this post for reference!
Have you participated in children's consignment sales? What are the best tips you suggest for a first-timer?