I call this time of year the winter lull. We're post holiday season, mostly cooped up indoors, and running out of ideas to keep the littles even mildly entertained. When I'm all out of options and in serious need of a fresh activity to keep my preschooler occupied, I turn to something creative or crafty, and perhaps sensory in nature. And because I'm all about themes, I try to connect the activity to the time of year, which is why these Fun Valentine's Day themed activities ideas are centered around our favorite February holiday.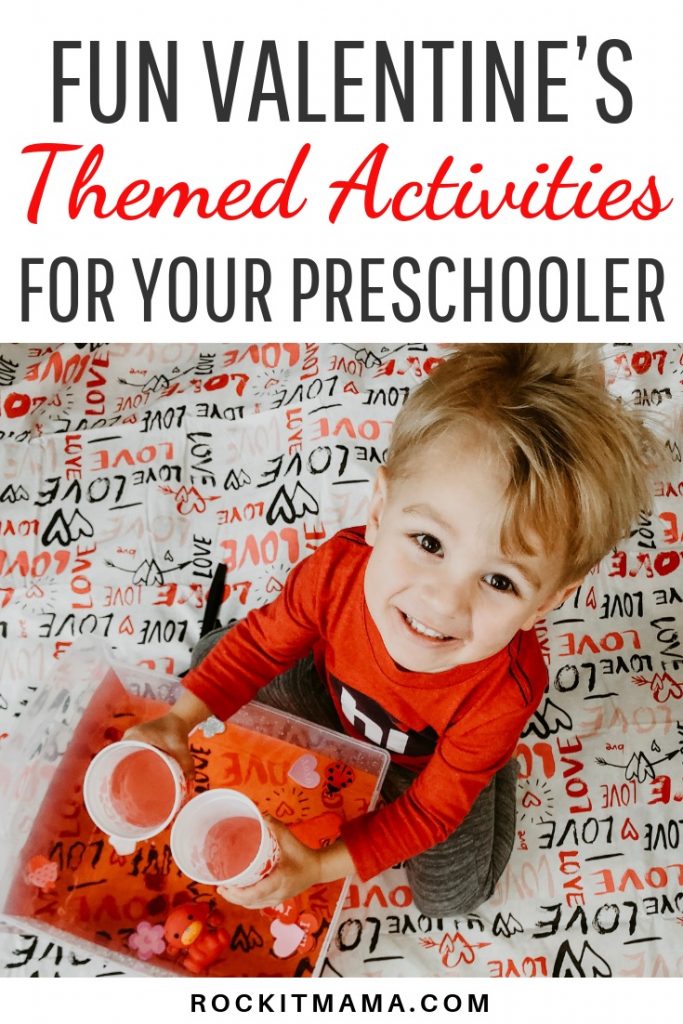 So mama, if you've found yourself in a similar boat and the kids are in dire need of a new interest (and for you a moment of silence) give these Fun Valentine's Day themed activities for preschoolers a whirl, and make sure to tell us what you think in the comments below!
1. Love Soup
I LOVE this Valentine themed sensory activity that you can potentially piece together without even leaving the house! Let your child pretend to create cups of "Love soup" with the colored water and foam hearts. Caution: it may get wet!
You will need:
A plastic bin filled with water
Red food coloring
Foam hearts
Heart themed cups
Kitchen utensils (for pouring and measuring)
Towel for clean up
It's important to note that while participating in this Love Soup sensory activity, children build skills in many different areas. Measuring and guesstimating amounts can be applied to math and science. Socially, kids can develop team-working skills. Sensory play can also be used as a calming tool & distraction for tantrums. It also provides your child an opportunity to explore their senses – touch, sight, sound (even smell & taste if you want to go there) while they simultaneously learn and discover. Cheap, easy to make, and a stimulating experience right at home. Yum!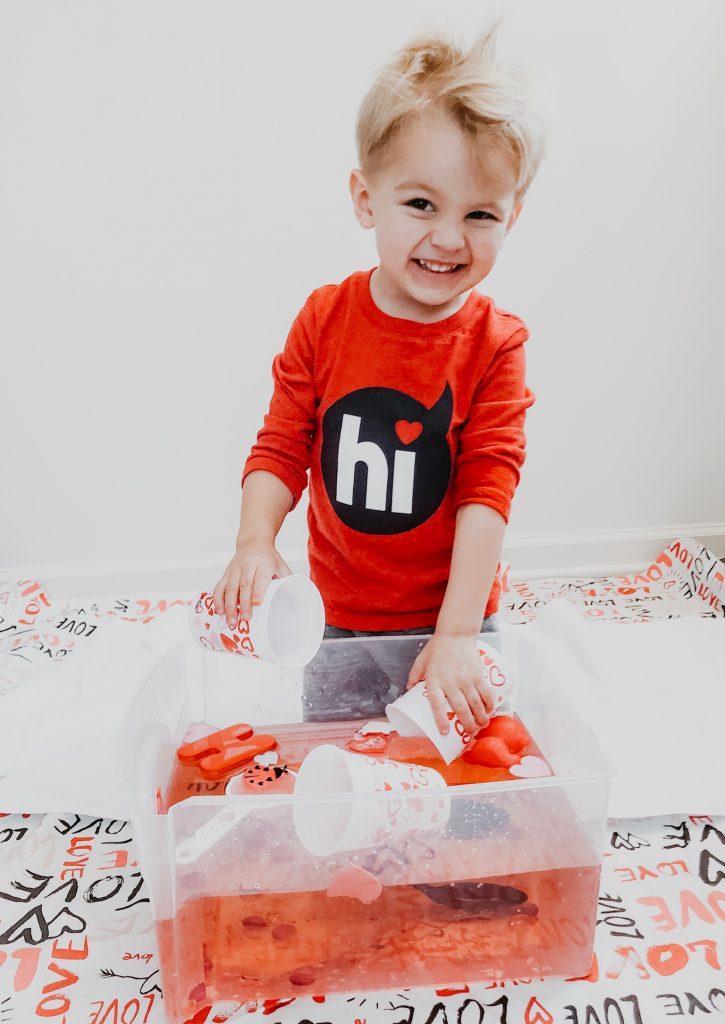 2. Love Monster Book & Craft
This children's book is one of my favorites for the Valentines Day Holiday and has a wonderful message about sharing with friends and the joys of giving. Crafts involving characters are a great way to get your kids excited about reading materials. You can purchase Love Monster and the Last Chocolate here!
You will need:
1 Paper Plate (per craft)
Red Tissue Paper
Glue
Kid Friendly Scissors
Red/White/Black Colored Cardstock
Directions:
First cut your red tissue paper into small squares
Put a good amount of glue all over your paper plate
Have your child place the tissue paper on top of the glue, until the paper plate is completely covered
While your child is working on that, cut out the other "love" monster embellishments from the cardstock. Think eyes, ears, mouth etc.
To finish the Love Monster themed kid craft – glue on the facial features to the paper plate and display proudly
3. Heart Hunt
This one is excellent for releasing some of that pent up energy! Hide the hearts around your home (much like an easter egg hunt) and have your child perform the exercise listed on each heart as they're discovered. To keep it interesting, offer a prize at the end once all of the hearts have been collected! I used simple actions like "jump on one foot" and "sing the ABCs" but feel free to cater it to activities your little can execute.
You will need:
Foam or paper hearts of various colors (foam will hold up better but I used paper since I already had it)
Marker
And there you have it! The Heart Hunt. We hope these fun Valentine's Day themed activities for preschoolers help to liven the mood in your household and offer a switch to your normal routine!
Another super sweet idea for Vday fun: Homemade Air Fryer Donuts!