With the turn of a new year tomorrow, its a time of reflection and goal setting for many of us – and not just for adults. Today, we are sharing New Years Reflection and Goal Setting Worksheets for your kids!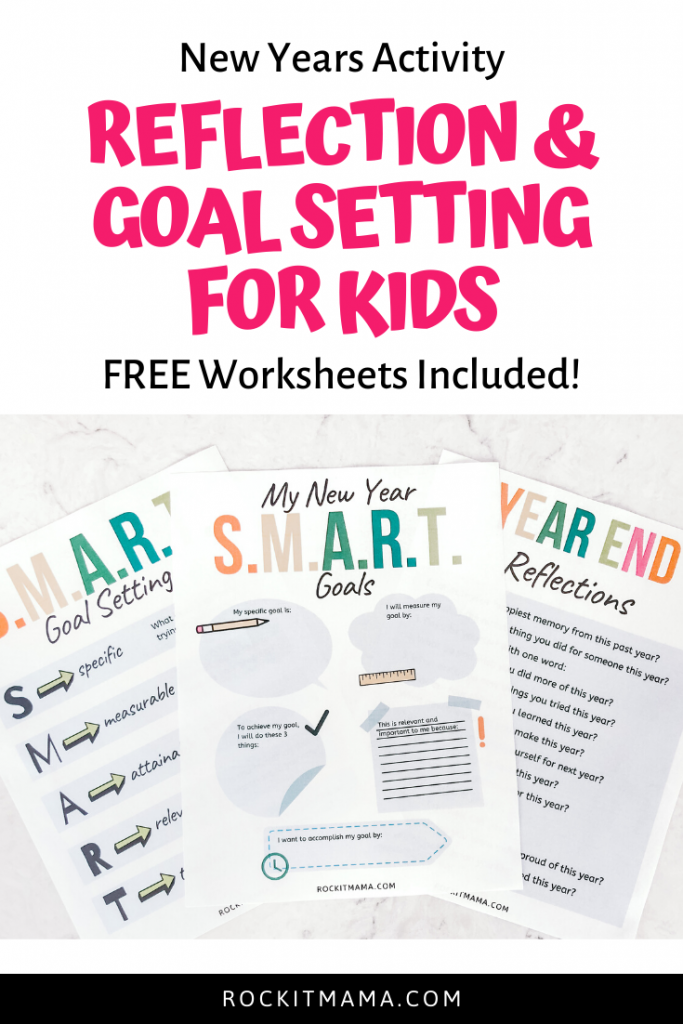 This is the perfect opportunity to discuss with your children the importance of reflection and setting personal goals for the year. Our worksheets are designed to be thought-provoking, fun and encourage personal growth and development. They include:
Year End Reflection Questions – Before your child decides how they want 2020 to look, dig deeper into the past year. Surprisingly, some of the answers can be a catalyst for major goal motivation. This worksheet is also a great conversation starter with family and friends (and you know we love a good conversation game.)
S.M.A.R.T. Defining Sheet – S.M.A.R.T. goals is a simple way to assist in goal setting. It is an acronym that stands for Specific, Measurable, Achievable, Realistic and Timely. Setting S.M.A.R.T. goals helps to clarify ideas and focus efforts that ultimately increase the chances of achieving accomplishments.
S.M.A.R.T. Worksheet – Have your child work through the S.M.A.R.T. process questions to plan out their 2020 goals.
This is
the perfect opportunity

to discuss with your child the importance of

reflection and setting personal goals

for the year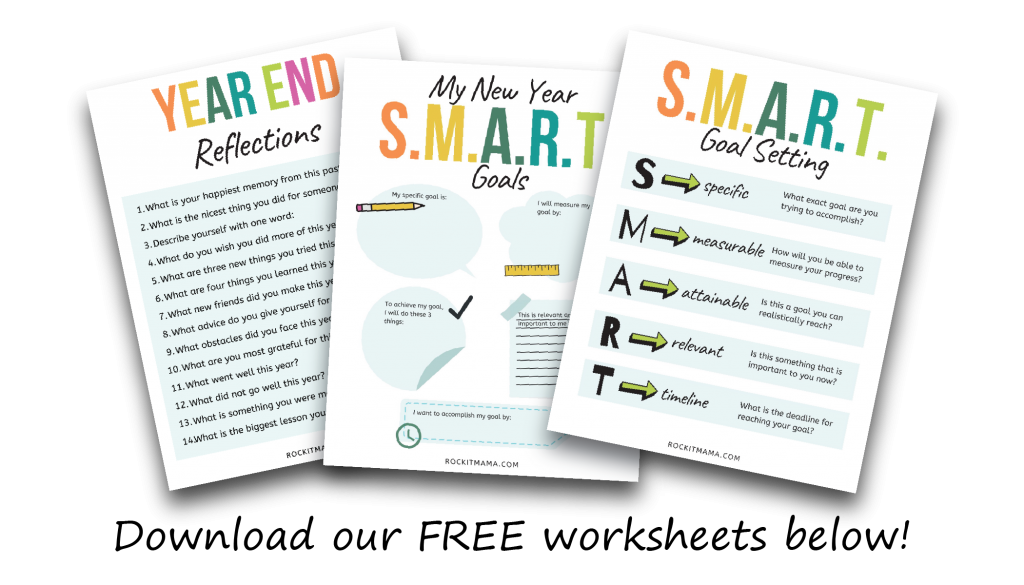 Teaching goal setting can be a challenge, so consider these simple tips:
Break big goals into little goals. If your child has a challenging goal they want to achieve, break it down to a step-by-step process. That way, they are continuing to accomplish small wins as they go.
Keep them short term. An important thing to keep in mind for younger kids, is to focus on a small goal that is easily achievable within a short amount of time. For example, a goal for a kindergartner may be to learn tying his/her own shoelaces within a week.
Celebrate the wins. Hitting goals is exciting. Be sure to acknowledge the great accomplishment that your child has made and let them know how proud you are of them. They will certainly want to achieve more.
Share your goals. Use this activity as a way to be candid and give examples of some of the goals you plan to achieve.
After the activity is done, have your child hang their worksheets on the fridge or in their room; this will serve as a daily reminder and motivation for the goals they plan to achieve!
If you enjoyed this activity, check out our other kids activities here.