As a child, my parents recited the old adage "treat others the way they want to be treated" often. This message has resonated throughout my life in situations where I feel triggered or compelled to jump to conclusions. It's important that my children understand the values of empathy and why it should be employed in our social interactions and relationships.
In fact, years from now when I look back on the job I've done as a parent, I will measure my success in the amount of kindness radiating from my kids.
FREE PRINTABLES BELOW!
Let's define empathy as the attempt to understand another person's thoughts, feelings, and condition from his or her point of view, rather than from one's own.
Empathy allows children to assess how others are feeling and respond appropriately. In the age of bullying, it's vital to the health of our youngest generation to understand and practice empathy and tactful sensitivity. By teaching children to look outward and identify with the experience of others, we can cultivate kindness and foster compassion.
Below is a printable learning activity, a printable call to action and a list of picture books to help children explore the value of empathy and grow kindness. We hope you make full use of our simple methods for teaching kids kindness and empathy, and in doing so, make the world a better place.
Wrinkled Heart Learning Activity
Start with an unwrinkled heart. Have your child cut it out. Explain negative speak and give examples. With each negative phrase, fold the heart until it is completely wrinkled. Discuss how hurtful words can cause another person harm and are not easily forgotten.
Lastly, explain that once something is communicated, it can not be retracted, in the same way the heart cannot be unwrinkled.
A few more talking points:
Explain why it is important to think before you speak
Talk to your children about the struggles that others go through
Have a conversation about how the different life experiences of others can explain their actions
Teach them that words can hurt and have consequences
Discuss how speaking with care and sensitivity could save someone pain and suffering
Random Acts of Kindness Jar
Help children learn to derive pleasure from the happiness of others with this simple and impactful activity. Use the label to create a random acts of kindness jar.
Cut the acts of kindness into small strips and fold them up. Then place them in the jar.
Every morning (or week, month, whatever works for your family) have your child pull one of the strips from the jar and complete the act of kindness. Watch as they grow in their desire to give and pay it forward.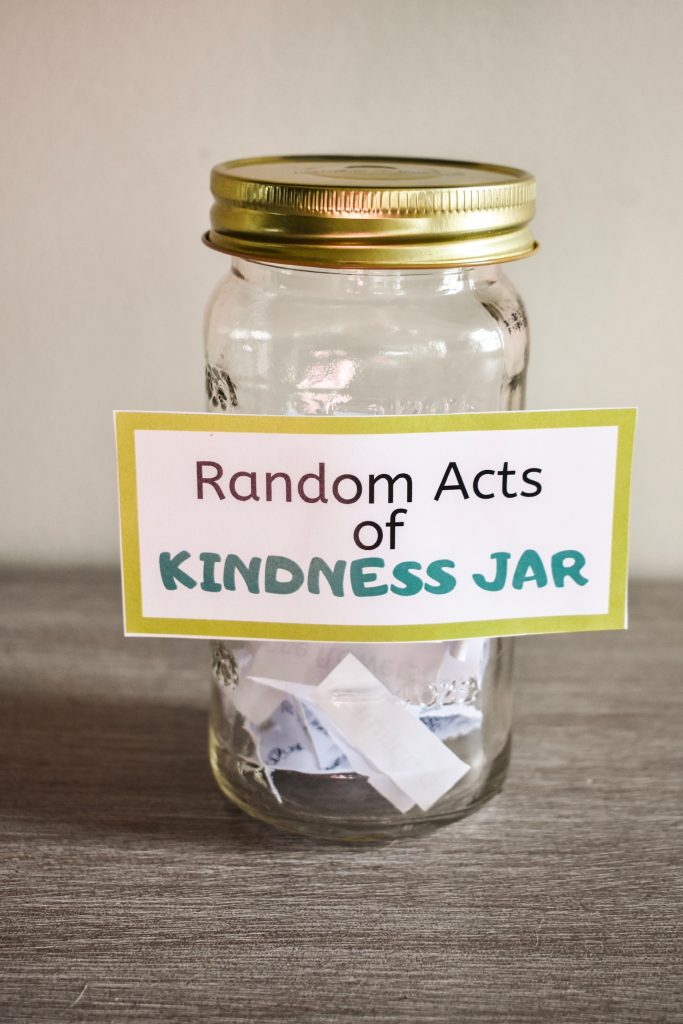 Books that Teach & Inspire Empathy
There is no better method for delivering a message to a child than via picture book. Research indicates that reading improves a child's emotional intelligence and increases empathy. Be sure to check out the following reads:
How Full is Your Bucket?
Each of us has an invisible bucket. When our bucket is full, we feel great. When it's empty, we feel awful. Yet most children (and many adults) don't realize the importance of having a full bucket throughout the day. Felix learns how every interaction in a day either fills or empties his bucket. He then realizes that everything he says or does to other people fills or empties their buckets as well. Follow along with Felix as he learns how easy it can be to fill the buckets of his classmates, teachers and family members. Before the day is over, you'll see how Felix discovers that filling someone else's bucket also fills his own.
The Last Stop on Market Street
Every Sunday after church, CJ and his grandma ride the bus across town. But today, CJ wonders why they don't own a car like his friend Colby. Why doesn't he have an iPod like the boys on the bus? How come they always have to get off in the dirty part of town? Each question is met with an encouraging answer from grandma, who helps him see the beauty—and fun—in their routine and the world around them. Help children walk a mile in another's shoes and gain a different perspective with this award winning read.
The Invisible Boy
Meet Brian, the invisible boy. Nobody ever seems to notice him or think to include him in their group, game, or birthday party until a new kid comes to class. When Justin, the new boy, arrives, Brian is the first to make him feel welcome. And when Brian and Justin team up to work on a class project together, Brian finds a way to shine. From esteemed author and speaker Trudy Ludwig this gentle story shows how small acts of kindness can help children feel included and allow them to flourish.
We hope you've enjoyed our Simple Methods for Teaching Kids Kindness and Empathy. Looking for more on early childhood development? Be sure to read our small steps for Raising Confident Kids.