Since the school year began, our family has put some extensive structure into our days – something we never had to do before. And to make sure our new routine runs smoothly during the week, I have been working on ways to organize our time and schedule accordingly. One of the newest projects I have implemented is this weekly menu board, which I am sharing below.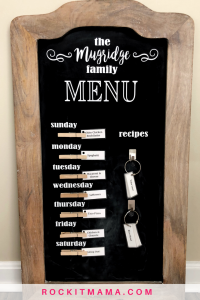 It has only been a few weeks since using this and it has been really helpful. We've saved a fair amount of money by planning our dinners in advance and we are never asking ourselves, "What should we have for dinner?" when 5 o'clock rolls around. As a result, creating our grocery list each week has been a breeze.
I modeled my weekly menu board from this project by The Thinking Closet, but with significant changes. It was super easy to make and one that I am excited to use each week. I hope you enjoy this project and see if it helps you!
As a result,
creating our grocery list has been a breeze

and we are never asking ourselves, "What should we have for dinner?"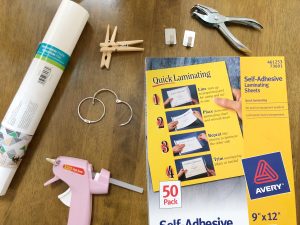 Here is what you will need:
Chalkboard (I just used one that was sitting in our storage needing to be repurposed)
Hot glue gun & sticks
Binder rings
Cardstock
Matte vinyl & transfer paper (or you can use chalk paint marker and write yourself)
Silhouette/Cricut (if you are using vinyl)
Hole puncher
Step 1.
Gather your supplies.
Step 2.
Create a list of all your favorite family meals using this template. I made sure to include "take out", "leftovers" and "eating out" as options for the times we aren't cooking at home.
If you happened to look at the weekly menu board that I referenced, they actually color coordinated the meals by category ( i.e. chicken, seafood, beef, vegetarian, etc). I didn't feel this was necessary, but it's a great idea if you want to get more detailed.
Print this list on regular 8.5 x 11 card stock and cut into strips.
Step 3.
Self-laminate the meal strips, cut and punch holes in the top left-hand corner. When finished, hang on binder rings for later.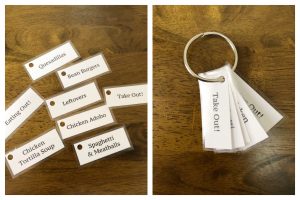 Use this template

to create bigger meal cut outs and you can print the recipes on the back!
Step 4.
Create a file in Silhouette or Cricut with the weekdays, "recipes/meals", "The ___ Family Menu" and anything else you want to add. From here you will just create, cut, transfer and place on the chalkboard where you see fit (here is a helpful tutorial), but if you are just using a chalk paint pen – this is the step you would write these on the board.
BONUS: Use this template to create bigger meal cut outs and you can print the recipes on the back! I regret not doing this myself and have since contemplated remaking my cards.
Step 5.
Hot glue gun the clothespins to below the days of the week and tape the command hooks to the right, as shown in picture.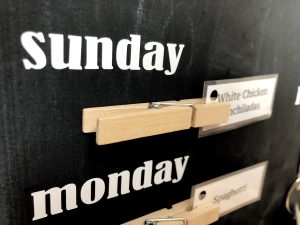 Step 6.
Now, just put your meals for the week under the weekday and the rest will hang on the binder rings!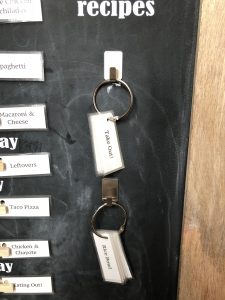 And there it is! Altogether, the project took me about 30 minutes. I hung the weekly menu board on an empty wall in the kitchen that I plan to turn into a command center when all is said and done.
Each Sunday, we look through our favorite meals from the board, decide what we want throughout the week and write out our grocery list. It makes our lives so much easier!
Do you create a weekly meal plan? How do you like to keep it organized?
Cheers mama,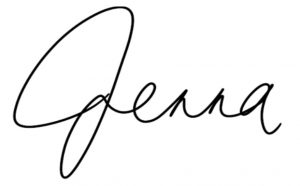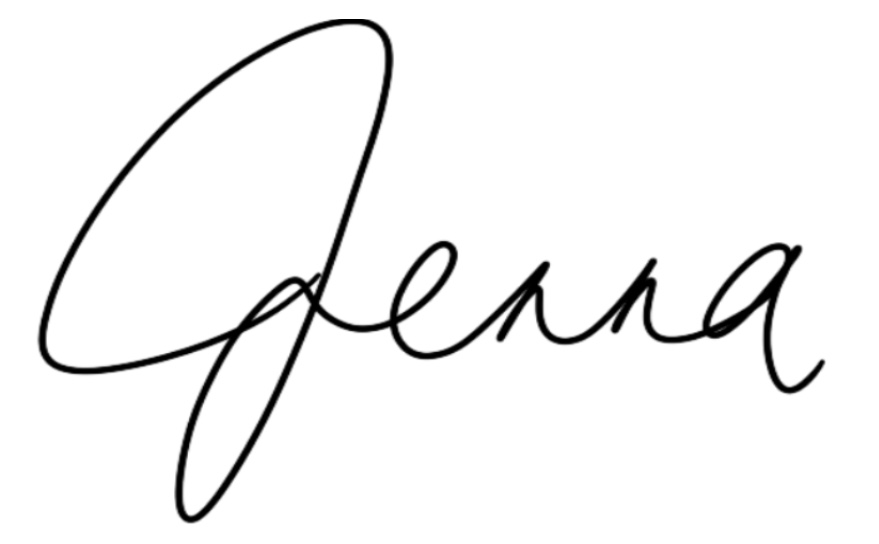 PS. If you are interested in more home organizational projects, be sure to visit here!