Quick disclaimer Mamas. I'm going to begin this article by letting you in on my most essential parenting mantra: DO WHAT WORKS! If you are happy with the amount of screen time happening your home, no need to fix what's not broken. If not, keep reading.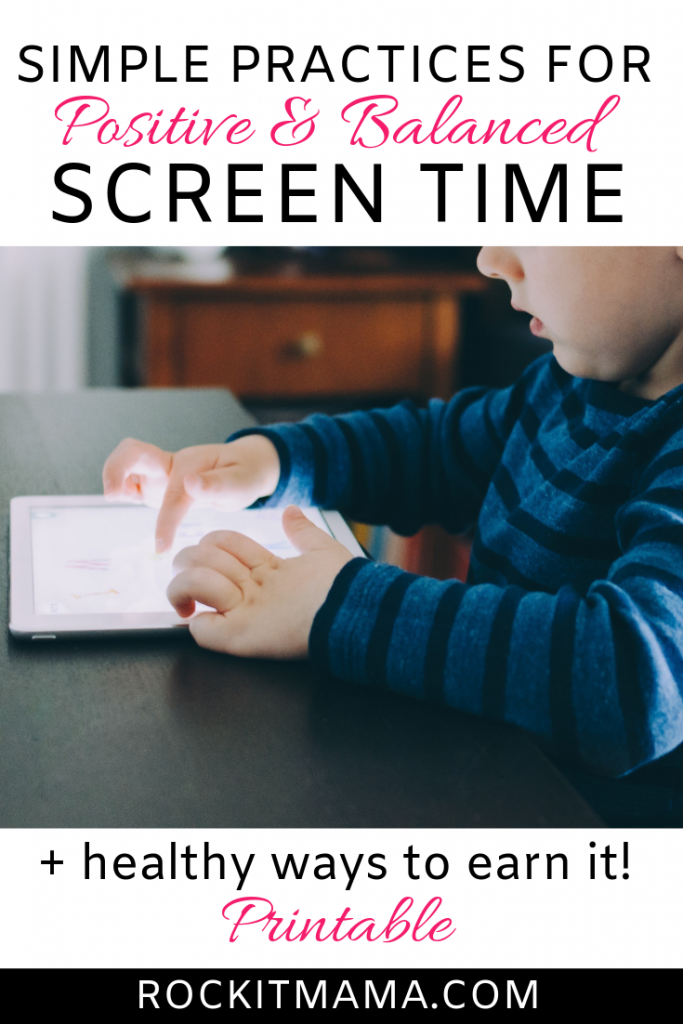 As I am typing this, my three year old is asking to watch "baby shark" on my iphone.
While I'm generally inclined to let him view a quick video (especially while trying to get through a meal at a restaurant, we've all been there!) I cringe at the way he zones in to the screen and seemingly forgets the world around him. At times, I've used the phrase "Come up for air!" because it's as if it engulfs his entire existence.
Now, I am all for educational screen time at the appropriate age and understand the benefits of quality content. I truly believe healthy habits start with limitations.
The topic of screen time is important to me as a mother, substitute teacher, lover of the outdoors and general believer in readying our youth for success. Physical activity and real-life interactions are pertinent to our children's emotional wellbeing, learning and development which is why I'm a huge proponent for putting down the tablet and opting outside.
While attempting to find ways to limit tech usage, I came across a few simple practices for positive and balanced screen time that I plan to implement in our household and figured why not share on the blog, along with some great information regarding healthy screen time habits.
First lets define screen time:
Screen time is the time one spends watching TV or DVDs, using computers, playing video or hand-held games, or using tablets or smartphones. In its best form, screen time enhances learning abilities, increases self instruction, entertains, captures memories and increases access to reading material. The downside is that too much screen time can lead to lack of physical activity, less social interaction, weaker emotional bonds, exposure to extreme content, and lower attention capacity.
The latest guidelines from the American Academy of Pediatrics (AAP) suggest that:
children under 18 months should avoid screen time, other than video-chatting
children aged 18 months to 2 years can watch or use high-quality programs or apps if adults watch or play with them to help them understand what they're seeing
children aged 2-5 years should have no more than one hour a day of screen time with adults watching or playing with them
children aged 6 years and older should have consistent limits on the time they spend on electronic media and the types of media they use.
In addition to the guidelines above, the AAP also recommends designating media-free times together, such as dinner or driving, as well as media-free locations at home, and ongoing communication between parent and child about online citizenship and safety, including treating others with respect online and offline.
To learn more, click here.
The graphic below can be used as a screen time regulator, a method for setting limitations, and a way to promote other activities critical to child development.
The awesome part about this method is that you can customize it to what works for your family. It would be frivolous to think that there is a 'one size fits all' solution to monitoring screen time, like most parental challenges. Find a balance that works for you!
Simple Practices for Positive and Balanced Screen Time
Set NO TECH ZONES in your home. A good place to start is the dinner table.
UNPLUG once a month with the entire family. Pick out a board game or go for a hike!
Set DESIGNATED TIMES allocated for screen time.
Provide STIMULATING ALTERNATIVES to screen time. Sensory bins, arts and crafts or baking!
EDUCATE your children on the negative aspects of too much screen time and why limitations are important.
MONITOR screen time usage and have a discussion about media literacy.
Love it or hate it, technology is an integral part of our everyday human experience. There are positives and negatives to the fact that we rely so much on our devices. What we can control is the quality and amount of online content we are consuming and the impact of screen time on our littles. Thanks for reading!