It should come as no surprise that my three year old doesn't come sprinting down the stairs for breakfast each morning since I often skip the entire meal myself and settle for coffee (I'm working on that!)
One way to encourage breakfast eating (or any meal for that matter) is to have kids help prepare dishes and perhaps even come up with their own recipes, under the supervision of adults, of course! It also helps when the meal is easy to make and absolutely delicious, and BONUS I get to munch on them too.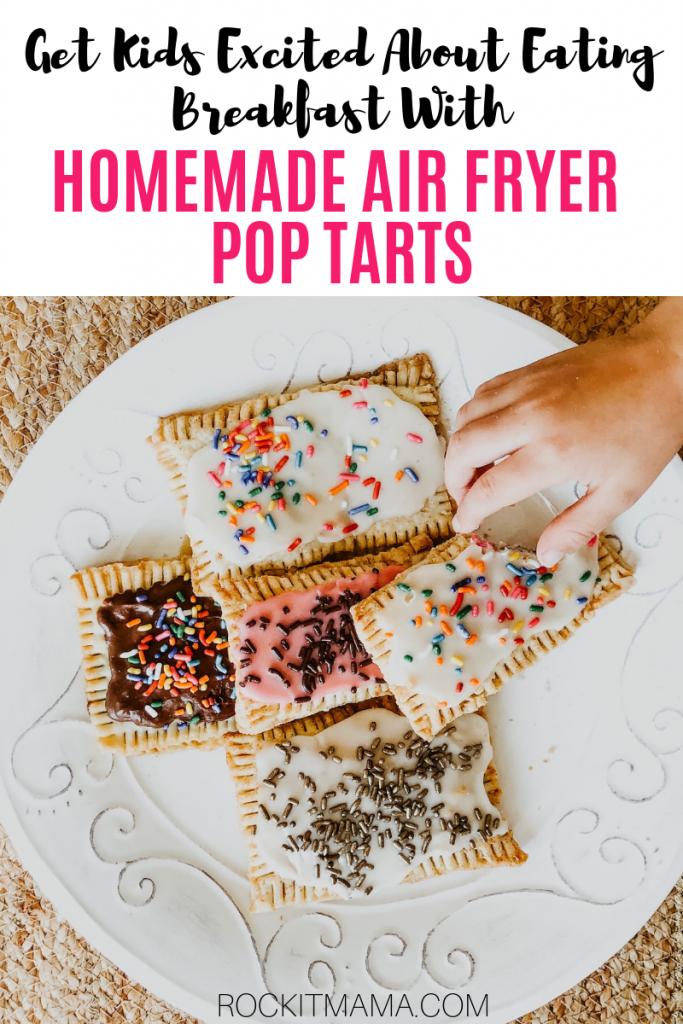 This recipe is an easy spin on an old classic – the pop tart! Thanks to the invention of the air fryer, its possible to create this delicious morning treat in a matter of minutes. My son and I had the best time decorating and getting creative with the icing and toppings.
Note that the icing does dry fast so keep adding more in order for the toppings to stick. The extra layer of sweetness yields even tastier pop tart. We used Nutella and strawberry preserves for our fillings but feel free to experiment with other fillers such as marsh mellow, chocolate, banana, etc. Have some fun with it!
The principle ingredient in the icing is Greek yogurt to cut down on sugar bright and early. It is not quite guilt free but certainly healthier than the store bought version.
Let us help with the stress of skipping "the most important meal of the day" and get kids excited about eating breakfast with homemade air fryer pop tarts!
Homemade Air Fryer Pop Tarts
Ingredients
1

Refrigerated or homemade pie crust

1/2

cup

Strawberry preserves or Nutella

1/3

cup

Cream cheese

for icing

1/3

cup

Greek yogurt

for icing

1/2

tsp

Vanilla extract

for icing

4

tbsp

Powdered sugar

for icing
Instructions
Roll pie crust onto floured surface and cut into rectangles.

Spread strawberry preserves or nutella onto rectangle pie crust. Leave half an inch from edge for seal. Place another rectangle pie crust on top.

Seal the pie crusts with water around the edges and use fork to mold both rectangles together.

Coat Air Fryer with cooking spray. Place pop tarts in fryer. Heat at 350 degrees and let cook for 5 minutes.

Mix all of the icing ingredients in a bowl. Once Pop Tarts are done, remove from fryer and ice. Add sprinkles or other toppings.
Caught mid-bite eating his
air fryer pop tarts!
We hope those early mornings are now a little sweeter! If you're looking for more air fryer recipes to jump out of bed for, check out our Air Fryer Donuts