This year, I took the time to really invest my energy in home organization. One of the very first items I worked on was a family emergency binder for our home.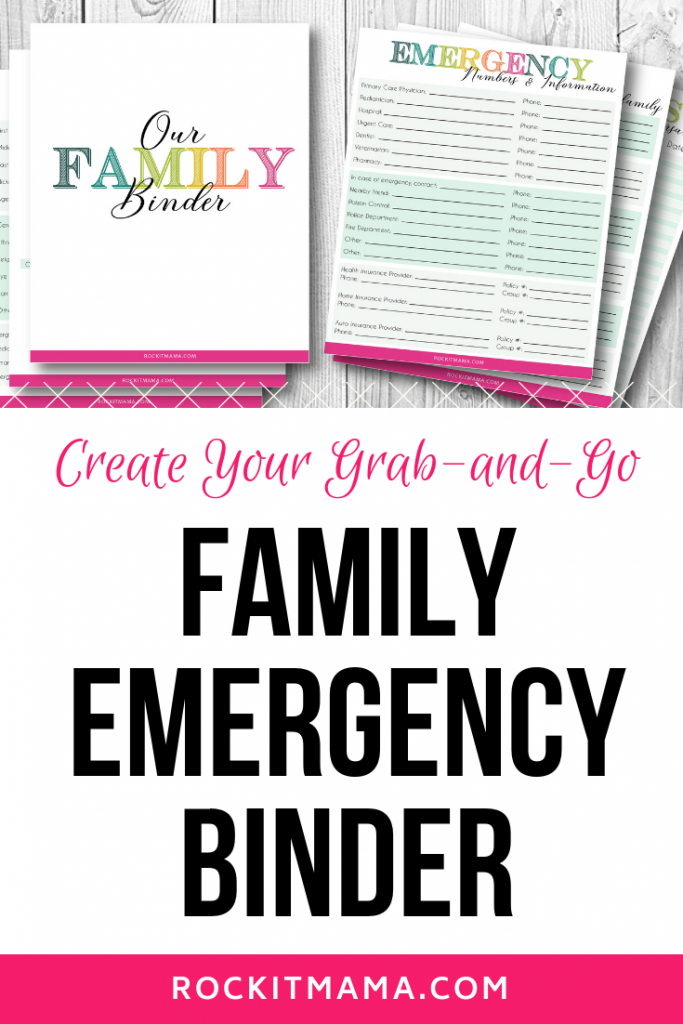 It's important to note that the family emergency binder is different than a home management binder, which is geared towards keeping your family on track on a daily basis.
Putting all of our important information and documents together in one place has not only been smart and practical for at-home use, but it is the perfect grab-and-go item in case of an emergency.
Now, each emergency binder will be unique across the board – some families choose to have very in-depth binders and others have just the vital information (I like to think mine was less elaborate). How and what you choose to put in yours is up to you!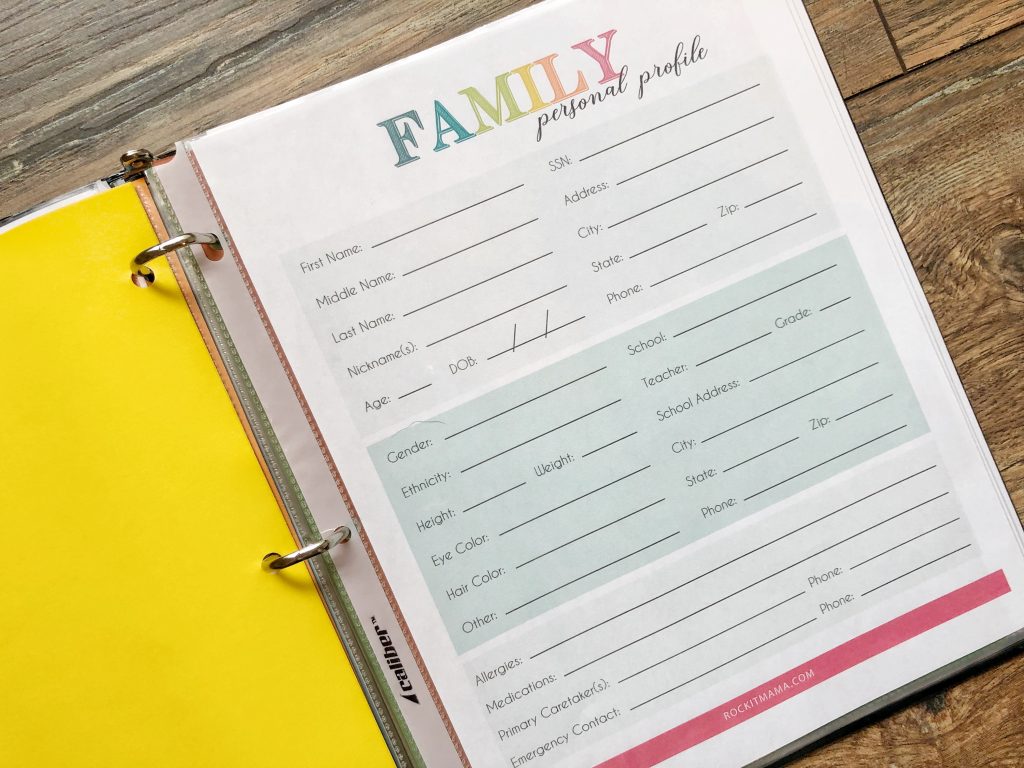 Here is how I put together our
family emergency binder

, as well as some additional ideas you can incorporate and

some free printables

so you can start your own!
Create your family binder with some simple supplies:
Gather your information and documents

Contact information (including emergency contacts, neighbors, hospital, primary care, pediatrician, veterinarian, insurance providers, etc.)
Medical information (personal medical details such as allergies, medications, etc.)
List of utilities (account numbers, authorized users and login username/password)
Important documents

Legal documents (marriage license, custody, car titles, lease information, etc.)
Tax documents
Property documents (deed, titles, etc.)
Testamentary documents (wills, trusts, etc.)

Identification material

Birth certificates
Passports
Copies of drivers license or state issues ID card
Social security cards
Military records

A list of usernames and passwords to vital websites
Contacts of family and friends
List of birthdays and anniversaries

Print out the free family emergency binder printables I have made below, which include:

Family binder cover
Emergency numbers and information
Family personal profile
Birthdays and anniversaries
Contacts of friends and family
Utilities and services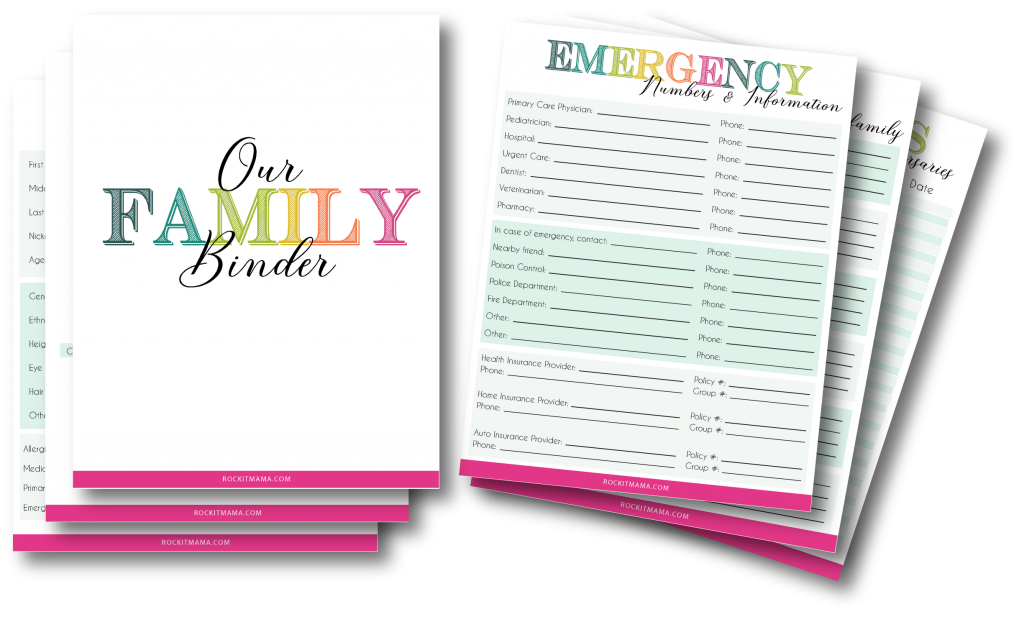 Fill out your printables and place in the page protectors. Make sure you place all your documents in a spot you will remember (I place our documents towards the back of the binder, in different sections).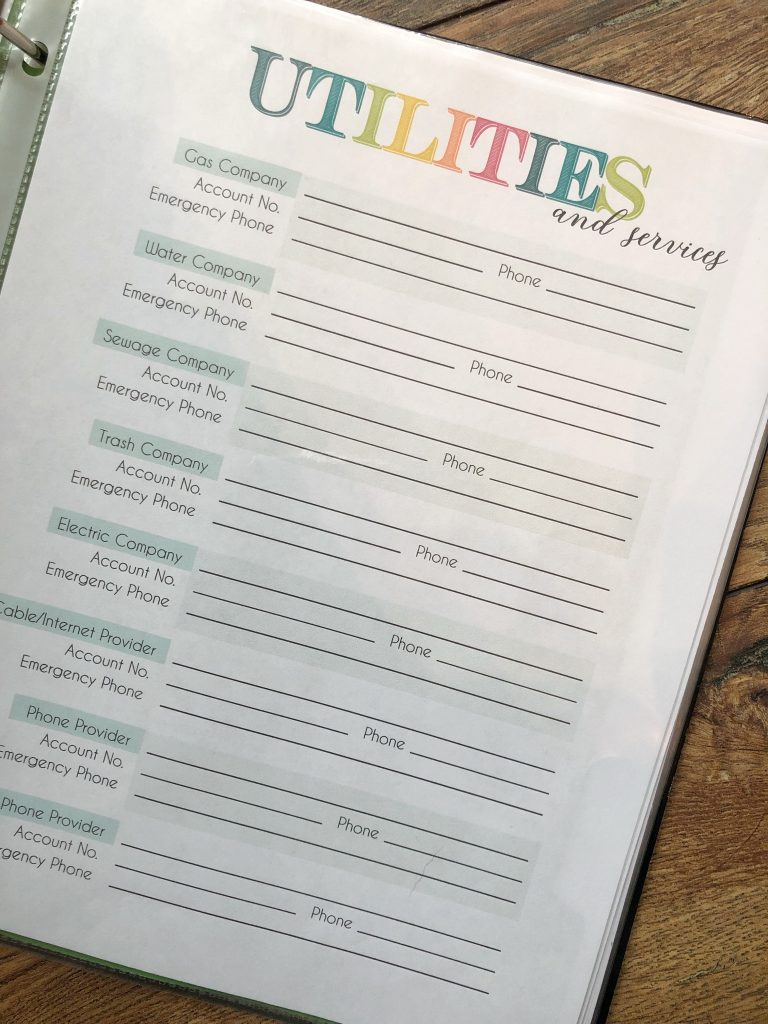 There you have it – in just a few steps, you have an easily accessible "command center" binder!
Want to include more? Here are some additional ideas you can put in your emergency family binder:
Babysitter worksheet
Petsitting worksheet
Immunization records
Credit/debit card information
Medical release forms (you can even notarize these)
Hopefully we never ACTUALLY have to run out of the house with this binder in an emergency, but the fact that we have it eases my mind exponentially.
Have you made a family emergency binder?
If you enjoyed this post and want more printables for your family binder, check out this post.