It may seem simple to many, but it felt like a huge success when I was able to breastfeed my second son, Mateo. A bit of a background – I had struggled with my first son Rylan and moved forward with exclusive pumping and then supplementing with formula thereafter, so I was very relieved when Mateo was able to latch right away.
But…that's not to say it was easy. The pain was new and unbearable in the beginning. The nights were long comparatively and I felt helpless in the moments when he wouldn't latch right away but was screaming at the top of his lungs from hunger. Fortunately, I worked with lactation consultants with success and trudged through those first few days unaffected.
Then it happened suddenly – an experience that I never read about or prepared for. As I lumbered through the 2-3 hour increments of our nursing schedule, I was at the same time becoming overwhelmed with an extreme sense of sadness and dread as my milk was coming in. The feeling as if I had done something horrible, something bad was going to happen, or if I had a million bills to pay tomorrow and no way of paying it. A homesick, heart racing, pit-in-my-stomach-feeling I couldn't explain or wrap my head around. A sudden need to be alone and just breath through the sadness with no interruptions as I nursed. And as fast as it would take over my emotions, it would dissipate just as quickly.
It almost made me quit breastfeeding.
Knowing I have a past of anxiety, I immediately became very concerned for my mental health and even more worried thinking it was, yet again, going to creep back into my life. I would certainly need to get in touch with my doctor and hope there was a way to work through this debilitating experience. I started to get vocal about it, just to get feelers out. To my husband, I feel very anxious and I'm not sure why…am I acting weird? What do you think could be happening? To my close friends (who had just had babies within weeks of me), Hey guys, are you feeling this way? Have you felt like this before, I'm feeling like _______". I was met with unfamiliarity yet persisted to research what it all was, and thankfully after some intense internet searching, I found out what I was experiencing:
Dysphoric Milk Ejection Reflex or D-MER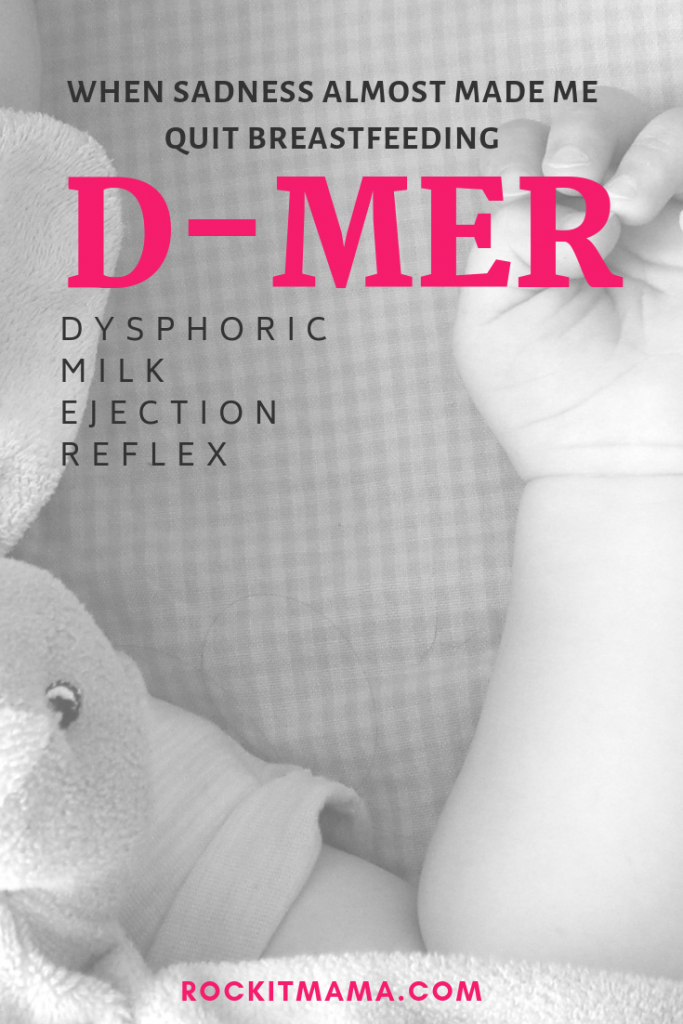 Described on d-mer.org,  "Dysphoric Milk Ejection Reflex is a condition affecting lactating women that is characterized by an abrupt dysphoria, or negative emotions, that occur just before milk release and continuing not more than a few minutes."
Dysphoric milk ejection reflex cannot be fully explained but is linked to an overly-excessive drop in dopamine during the "let-down" in order for prolactin levels to rise, resulting in a brief dysphoric reaction.
Also – because this is a temporary feeling while breastfeeding, the actual condition is a physiological response versus a psychological response – which did give me a sense of relief that this wasn't anxiety-related at all.  A case report in 2011 by Heise and Wiessinger concluded that "Imagine tapping your knee to cause a reflexive jerk. Now tell yourself that you are going to resist the reflex with all your will, and tap again. Does your willpower make any difference? This is precisely the problem for the mother with D-MER. The emotions are unavoidable. She can feel them coming, but cannot stop them."
Upon further research (and after joining this Facebook support group), I realized that my feelings of negativity from D-MER were not the only symptoms and feelings of intensity one can be presented with. There is actually a "Spectrum of D-MER", ranging from mild to moderate to severe.
Thankfully –  I found myself between the mild/moderate range, which I feel is as much as I could handle mentally. Anything more, I would need to stop breastfeeding. I also have an amazingly supportive husband, helpful 5-year-old and Mateo has always been an easy baby, so it could have been worse. Unfortunately there is very little research on treatment of D-MER and the best advice I have seen is to avoid breastfeeding altogether (and even some women continue to have it afterwards). But for me, simply just knowing the feelings I experience have a name and there is a reason for it gave me validation and eased my mind.
If you are experiencing similar feelings, be sure to talk to your doctor and research more about D-MER. I highly encourage joining the linked Facebook group above, as it has helped me immensely and has reminded me that I am not alone. And if you want to chat more, feel free to contact me.
Cheers,