Did you know that January is National Bath Safety Month? I was oblivious to this observance until I came across an article about the prevalence of bathtub drownings and prevention, and I felt compelled to spread awareness. Drowning is a leading cause of death in children, including toddlers and infants, and most incidents with infants occur in bathtubs and buckets. It only takes an inch of water for a child to drown and a matter of seconds. It's easy to forget that such an everyday activity poses a danger to our children, and for this reason it is vital to stay diligent in practicing bath safety. We've included our favorite bathtub items below, but first, here are 5 bath safety tips every parent should read to keep your kids uninjured and out of harm's way.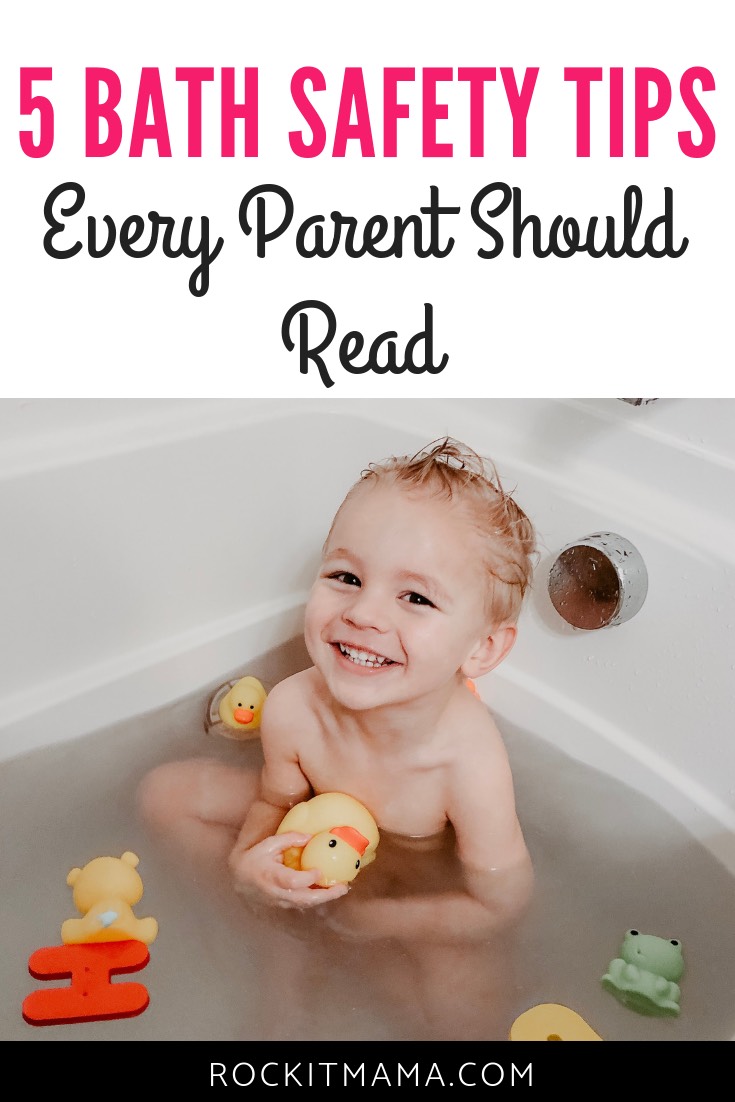 Here are
5 bath safety tips

every parent should read to keep your kids uninjured and out of harm's way.
Supervision
Young children should never, under any circumstance, be left unattended in a bathtub. Bottom line, if you need to leave the bathroom for any reason grab a towel and bring them with you. Remember, it only takes an inch of water for drowning to occur. While bathtub appliances such as seats are rings are helpful, do not rely on them to prevent drowning. These devices can provide a false sense of security leaving a child vulnerable to submersion. Prepare ahead of time and make sure to have any and all items you will need (soap, washcloth, toys, etc) within arms reach before starting the bath.
Drain the Tub
This one is pretty simple yet easily overlooked. Never leave water in a bathtub while it is not in use. The same goes for mopping buckets and sinks; drain them immediately after use. All it takes is a curious, wandering toddler to find their way to an open water source for tragedy to occur.
Temperature
To prevent scalding, adjust your water heater so the hottest temperature at the faucet is no more than 120 degrees Fahrenheit. Test the water with your wrist or elbow to check that it feels warm, not hot. If you notice your child's skin turning red test again. When your child is old enough to turn the faucets, teach him to start the cold water before the hot. If you feel you need a better gauge, there are baby-tubs on the market that provide the water temperature for you.
Slips and Falls
Install no-slip grips on the floor of the bathtub. Put a padded cover over the faucet so your child won't be hurt if he bumps his head against it. Place a rug or towel on the ground just outside of the tub for when it's time to get out. Get in the habit of closing the lid of the toilet and/or install a toilet lid lock. A curious toddler who tries to play in the water can lose his balance and accidentally fall in.
Additional Bathroom Safety
Medicine and toiletry storage: Keep all medications in containers with safety caps. Remember, however, that these caps are child-resistant, not childproof, so storing medications and cosmetics up high and out of reach of little hands in a locked cabinet is ideal.
Electric appliances: If you use electrical appliances in the bathroom (particularly hair dryers and razors) be sure to unplug them and store them in a cabinet with a safety lock when they aren't in use. If possible, install special bathroom wall sockets (ground-fault circuit interrupters) that lessen the likelihood of electric shock when an appliance comes in contact with water.
Our Favorite Bathroom Items
Built-in thermometer with a color-coded display
Made with foam to prevent bumps and bruises caused by hitting the faucet
Mildew-resistant design
Great alternative to traditional baby bath tubs
Super soft and cuddly to keep baby happy and comfortable during bath time
Four petal design fits sinks optimally
Recommended for infants 0 to 6 month
Soft and light and also good for sensory and motor stimulation.
Safe and nontoxic: PVC free and BPA free which means no yucky mold and mildew concerns or chemical smell
Mesh Net Organizer Storage Bag included which allows animals to quickly and easily dry
Machine Washable
Quick Easy installation with no drilling, no mess and no handyman required
Invisible magnetic locks hidden from view for everybody
The extra strong magnets are designed to prevent smart toddlers or friends from opening a cabinet lock or drawers