My three year old is at the age where his interests change over night. One minute it's dinosaurs and diggers, the next it's paints and play toys. Lately he's been dressing up in his astronaut costume, and I wanted to engage him in a learning activity that would help to explain what we understand about the universe our solar system.
This solar system necklace was the perfect way to introduce these ideas and consequently, he loved it! Now I can point to each planet and he can recognize them with ease, and the best part is, he can wear his art proudly around his neck. Interested in engaging the littles (preschool and up) in a creative science learning activity? Read below on how to make a DIY solar system necklace!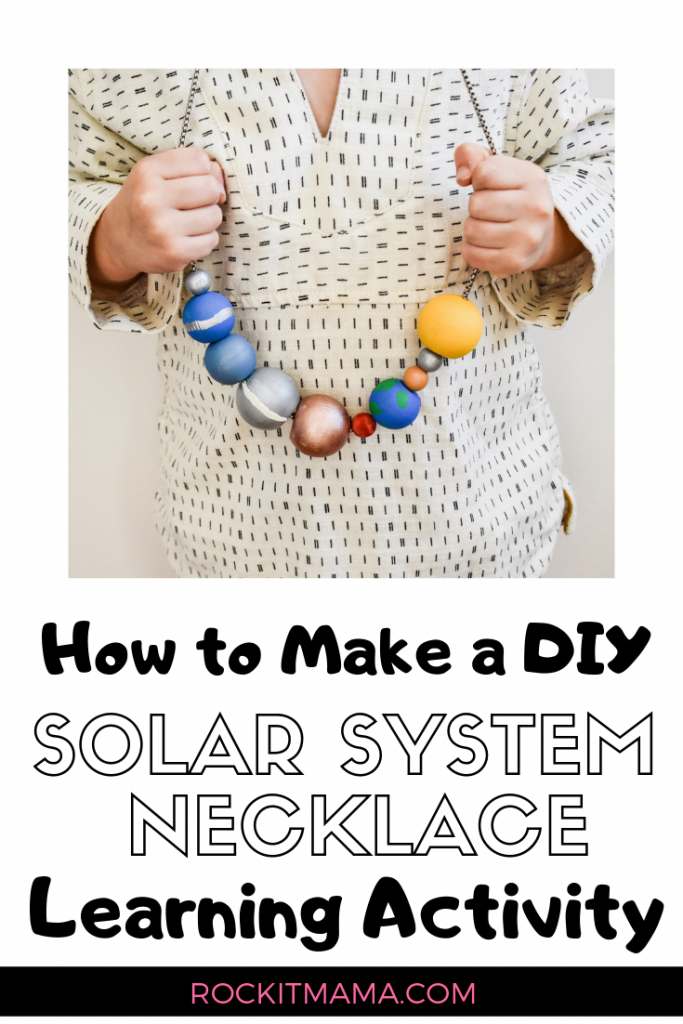 This post may contain affiliate links, which means that we may receive a commission if you make a purchase using these links.
You will need:
Assorted wooden beads (3 different sizes)
Acrylic Paints (Yellow, Blue, Green, Red, Silver, Metallic Bronze)
A wooden skewer
30 in. chain
Small sized paint brush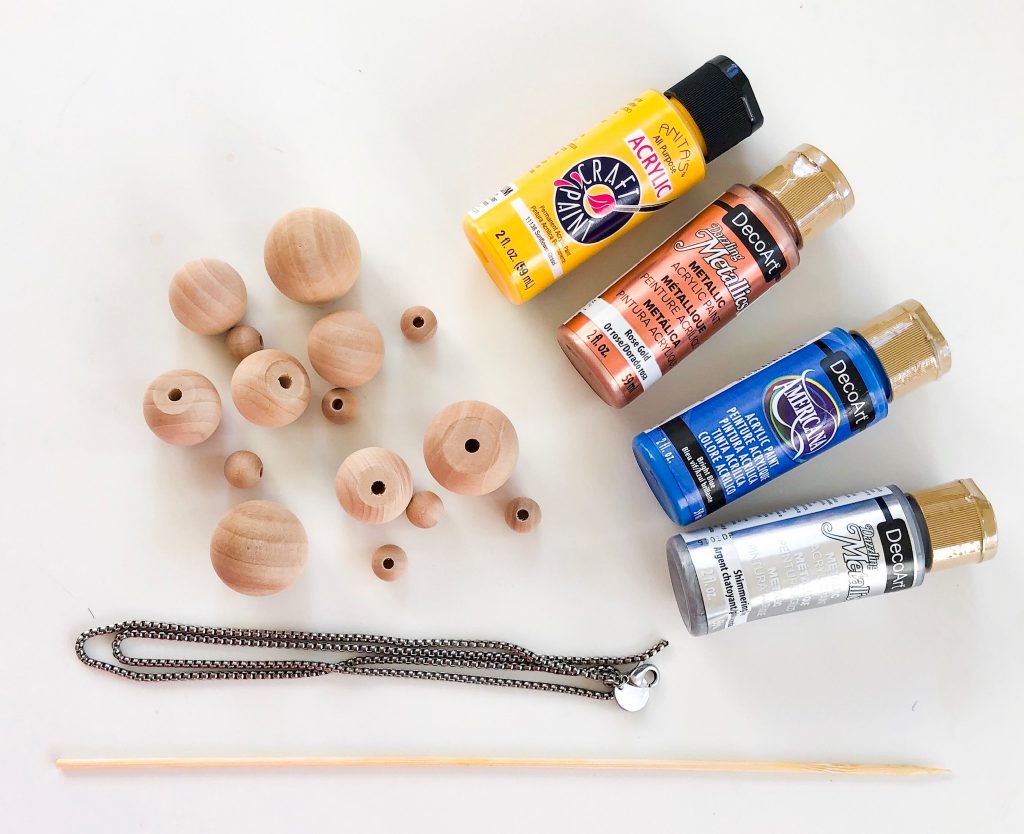 Directions
To help distinguish each planet, I used 3 different sized wooden beads. For the Sun, Jupiter and Saturn I used the larger sized bead. Earth, Neptune and Uranus were painted on medium sized beads (Technically Earth is closer in scale to the smaller planets but it was aesthetically pleasing to make it a little bigger and plus, its home!) and for Mercury, Venus and Pluto (If we're still considering it a planet) I used the smallest sized bead.
It was much easier to place the beads on the skewer and paint from there, and also turned out to be an excellent fine motor exercise. Wait for the base paint on the planets with rings to dry before adding the stripe, and before painting the green on planet Earth to represent the land masses. Seal each bead with a clear coat for preservation. Take creative liberties with the colors of the sun & planets or use the color guide below.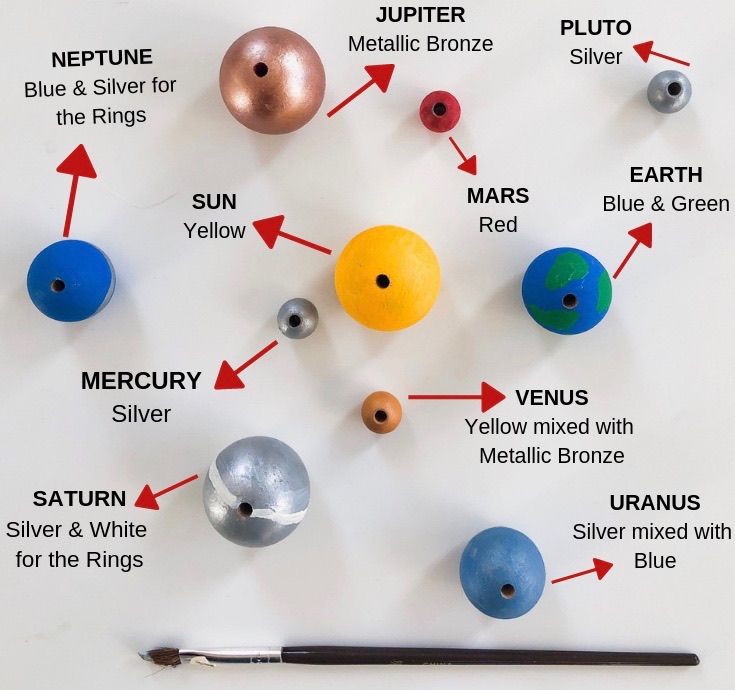 Lastly, place the colored beads on the chain and clasp it tight. We hope your littles enjoy making their solar system necklace as much as ours did. Feel free to leave a comment below if you decide to try it out!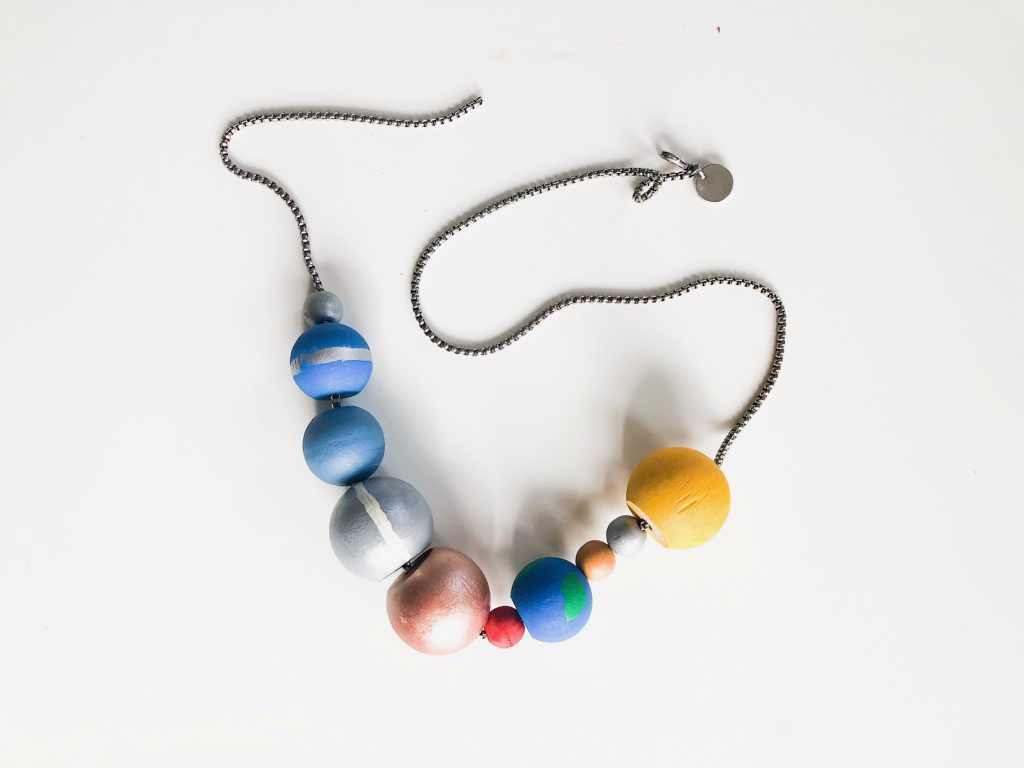 Completing this project has inspired this one to create even more! If you're looking for more educational activities check out our Where Do I Live? Activity to Teach your Kids their Address!