I'm going to be real with y'all. I love wine. I have a deep affinity for my evening glass while winding down after a long day with the kiddos. The tannins. Mouthfeel. Aromas. I love it all. I decided recently that I didn't know enough about this beverage for how intensely I feel about it, so I started doing a ton of research and informing myself about all things wine.

Thats when I came up with the idea of a Halloween Wine Tasting. One: to flex my newfound wine knowledge. Two: to spend time with friends. And Three: to celebrate this macabre time of year. I was delighted in how perfectly the event unfolded and how much fun we all had!
All of that being said, I want to share with you guys everything I did to plan and host a spooky Halloween wine tasting in the hopes that you will plan your own, revel in some adult time and de-stress in the company of great friends. We deserve it, Mamas!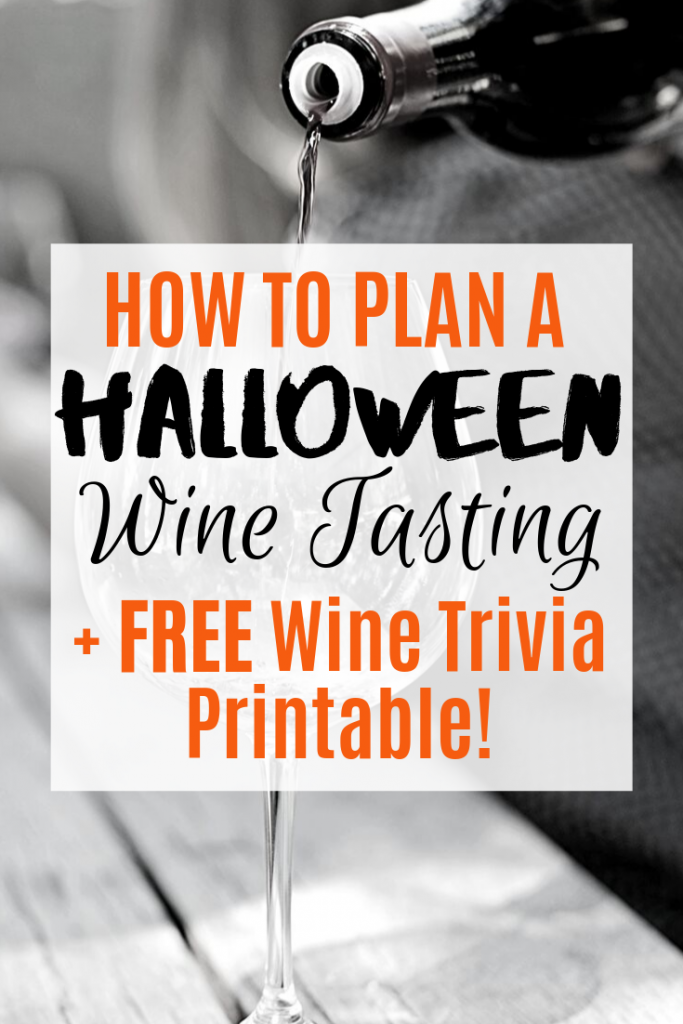 ALSO: We've made our Halloween Wine Tasting Trivia Printable available for FREE.

Simply scroll to the bottom. You're welcome!
Find a Sitter
I was up in the air at first on whether or not to keep the kids at home or send them to the grandparents and now I am so glad I went with the latter. The luxury of uninterrupted conversation is one I don't take for granted when my kids are gone. Plus, I'm not sure I would have been able to get through a detailed tasting with my two year old calling my name every 5 seconds.
My advice: find a sitter. Enjoy adult time and encourage your mom friends to leave their babies behind so they can do the same. There is nothing better than spending time with mom friends emancipated from their children for a few hours. As the saying goes, in vino veritas.
Wine and Food Selection
I decided to offer a variety of wines at the tasting to keep everyone happy. Reds, whites and even a good Rose. I sought out a few local wineries and some international bottles. Total Wine is my go-to but any grocery store with a decent wine selection will do. I chose wines under $15 that rated highly on the reviews.  That way, I kept costs fairly low and my friends who enjoyed a certain bottle could easily pick it up next time they're out shopping.
To add a creepy touch, I found some spooky wines in the seasonal aisle (one was labeled Witching Hour). We served Halloween themed finger foods to match the vibe and decor. I was thrilled with how the mummy jalapeno poppers turned out (recipe here) and I will say, Pinterest was a huge help. For the tasting portion of the event, I typed up small blurbs about each wine and gave a few tips on what to pair it with.
We served Halloween themed finger foods to match the vibe and decor

Games
What's a Halloween wine tasting without a little trivia? Games are a great ice breaker and a fantastic way to get the whole gang involved in the action. Our Spooky Wine Trivia game was a big hit with all of our guests and I could tell they enjoyed learning fun wine facts to take with them.
I found a cute pumpkin charmed wine stopper as the game prize and stuck it in a Halloween bag with a card which both congratulated and thanked them for coming. Easy Peazy! And in case you didn't see, our Halloween Wine Tasting Trivia printable is available for download below!
Costumes
I have a proclivity for dressing up on Halloween. It is the only time of year I can transform into a mermaid or a Dr. Seuss character without fear of judgment. However, we permitted our guests to make the call on costumes so no-one felt forced to come up with something.
The different ideas were great conversation pieces and allowed for hilarious photo opportunities. My husband and I decided to do a play on snapchat and personify filter vs. no filter, which meant he was in a skirt all night and that in and of itself was worthing dressing up for. My advice: let your guests make the call! Costumes can be a real hit but you don't want anyone to feel uncomfortable. Some great ideas for easy DIY costumes here.
Decor
Decor for our Spooky Wine Tasting was easy and simple. I used generic Halloween gear that I had collected over the years, some faux cob web on our railings and mirrors and purple lights on the stairwell. The black cauldron was a perfect place to store the wines. I use my felt board for every event that we host at our house so that was a must. Emoji wine markers added a fun touch to each glass you can purchase them here.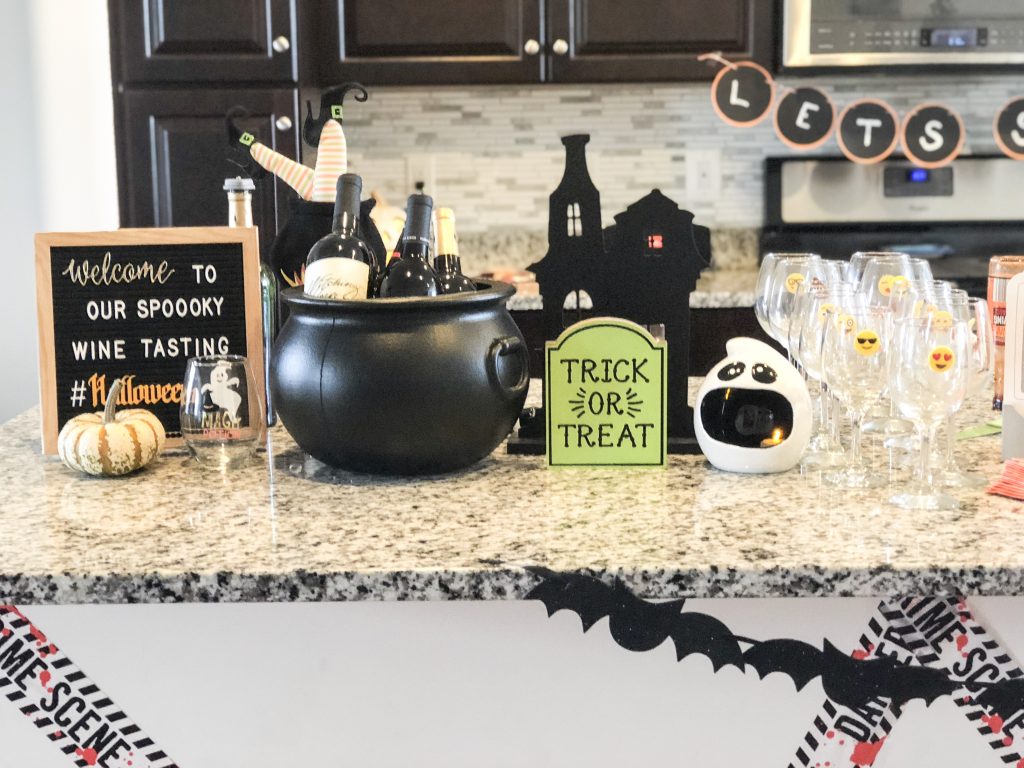 I used generic Halloween gear I have collected over the years, some faux cob web on mirrors and railings and purple lights in the stairwell
And there you have it! The Spooky Wine Tasting. A unique and entertaining experience for everyone to enjoy. There are so many different things you can do with this event to make it your own. The most important takeaway: set aside time to be kid free with people you care about. You'll never regret it!