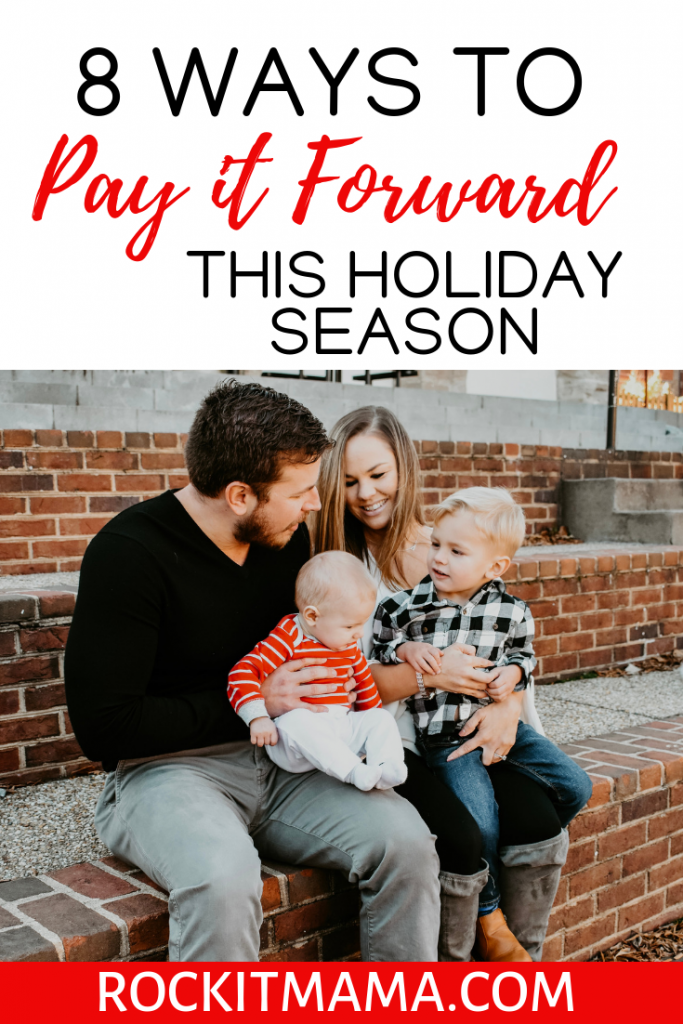 Charitable pro-tip: you don't have to have to be a billion dollar philanthropist to make the world a better place. While the holidays are a wonderful time to reflect on the best aspects of our lives, it can be easy to forget our community members in need.
As my oldest is becoming more aware of the world around him, it's increasingly important to me that he understands the true meaning of Christmas and the power of giving. Below we've compiled 8 easy (child friendly) ways to bring meaning to your holiday season.
Toy drive
Toys for tots is a wonderful organization specializing in toy collection.  Every year dedicated United States Marines and local volunteers host a nationwide campaign to deliver Christmas to millions of less fortunate children. You can find a nearby toys for tots chapter here.
Sponsoring a family in need is another great way to pay it forward. In lieu of our secret Santa gift exchange one year, my girlfriends and I sponsored a family and each of us selected a child to buy for.  When it was all said and done the entire family had gifts to open on Christmas morning. If you're interested in getting involved in this incredibly rewarding form of donation, click here.
Coat drive
Give the gift of warmth this winter. Clean out the closet and donate old coats and jackets to a homeless or battered women's shelter. For many Americans living below the poverty line, a new warm coat is considered a budget extra.
When the time comes that your kids have grown out of their winter gear, consider donating to a coat drive such as the one facilitated by One Warm Coat.
Canned food drive
Nonperishable food drives are happening everywhere this time of year. Pick up some extra canned foods during the weekly grocery run and drop them off at a food bank, church or any center accepting canned food donations.
Also, check with your child's school, as many collect canned food around the holidays as well.
Donate Toiletries
Many people forget the need for hygiene products at shelters and deliver food-oriented goods instead. Its always a great idea to check in with the center and find out what products are in demand.
Think toilet paper, toothpaste, feminine hygiene, diapers, etc. Another fun way to gather supplies is to host a "toiletry drive". Have friends come over and bring hygiene product donations and watch the goods pile up.
Help a Neighbor
As the old homage goes "Love thy neighbor" and what better time to show kindness than the holiday season, and hint, it doesn't always have to be in the form of baked goods.
Maybe your neighbor needs their driveway shoveled or some help with the pets while they travel. It never hurts to ask if there's anything you can do to help out. There's also a good chance your good deed will be reciprocated!
Give Blood
Donating blood and platelets costs literally nothing, sans maybe an hour or two of your time, and the gift is potentially life saving.
Look for posters advertising local blood drives or stop by a blood donation center to ensure blood supply for ongoing patient needs and unforeseen trauma situations.
Volunteer at an Animal Shelter
Let's not forget our furry friends. If adoption is just completely out of the question (I mean, what better gift for your loved one than a puppy) volunteer some of your spare time at a local animal shelter.
Help with dog walking, cleaning or donate pet food and toys. Some shelters will even let you bring home a pet for the holidays so they don't have to spend this special time of year alone. Our animals deserve love too.
Start at Home
Our children are the fingerprints we leave on the world when we're gone. It is vital to instill the values of kindness, empathy and compassion on the generation we are raising. Kids can be taught with explanation and led by example. Paying for a stranger's coffee or helping a friend move may seem like simple acts of generosity, but when our children are watching, it is possible to impress upon them a lifelong commitment to kindness and benevolence.
Do society a favor and get your kids involved in philanthropy early and often. For more information be sure to look into The Kindness Campaign.
Looking for a quick act of kindness? Check out this sweet, small gift. DIY Scrabble Tile Ornament